Posted on
By Shannon Vivo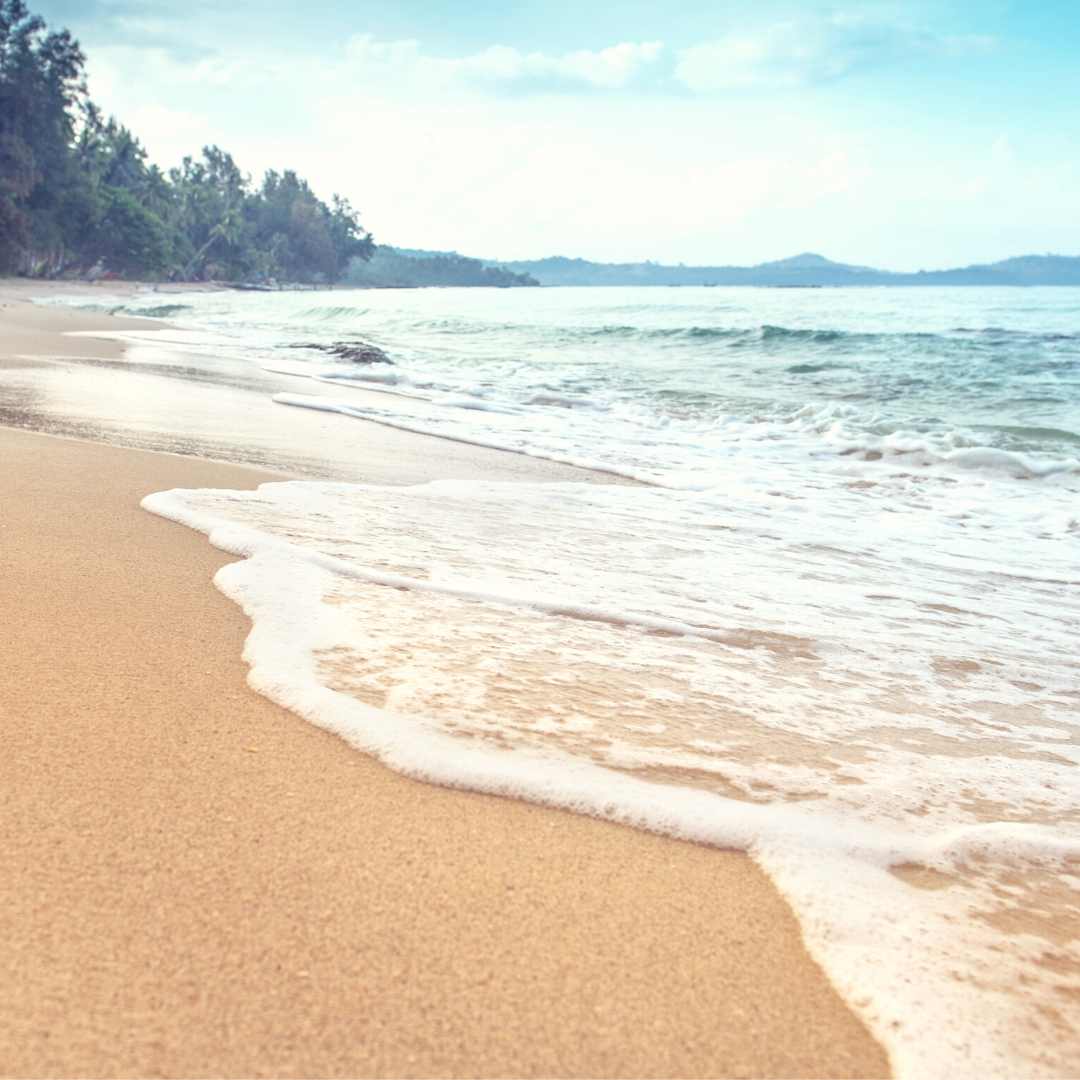 Summer is officially here! While everything is looking different in 2020 so far, summer vacations are no different. Fortunately for us Floridians, paradise is not far away! I know so many of us are changing our travel plans and vacationing closer to home in some of the beautiful places Florida has to offer. If you are heading out on vacation or out on your boat, I am going to share some of my favorite summer items to take along, or to give as gifts for someone with a summer birthday.
Cover-Ups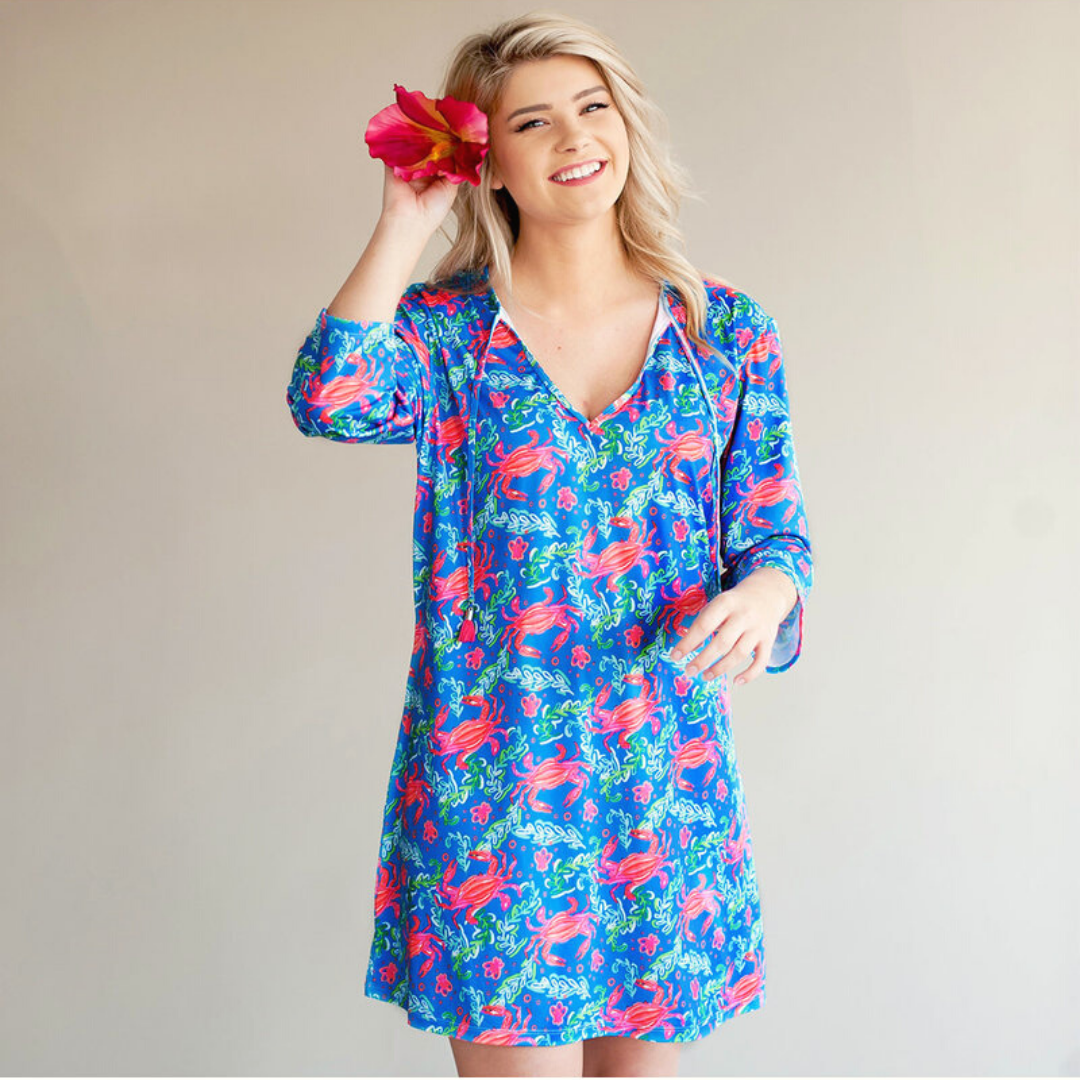 I just love these tunic beach cover-ups! My personal favorite is the sand hopper crab print, I just love the colors in this print! If crabs aren't your thing, we offer this tunic in several other prints including: Turtle Bay, Tickled Pink Flamingo, Pineapple, Lemon, and the classic Navy & White Striped. This tunic is 3/4 sleeve and features decorative tassel ties, polyester/spandex blend.  Embroidery personalization is included.
Clear Beach Bags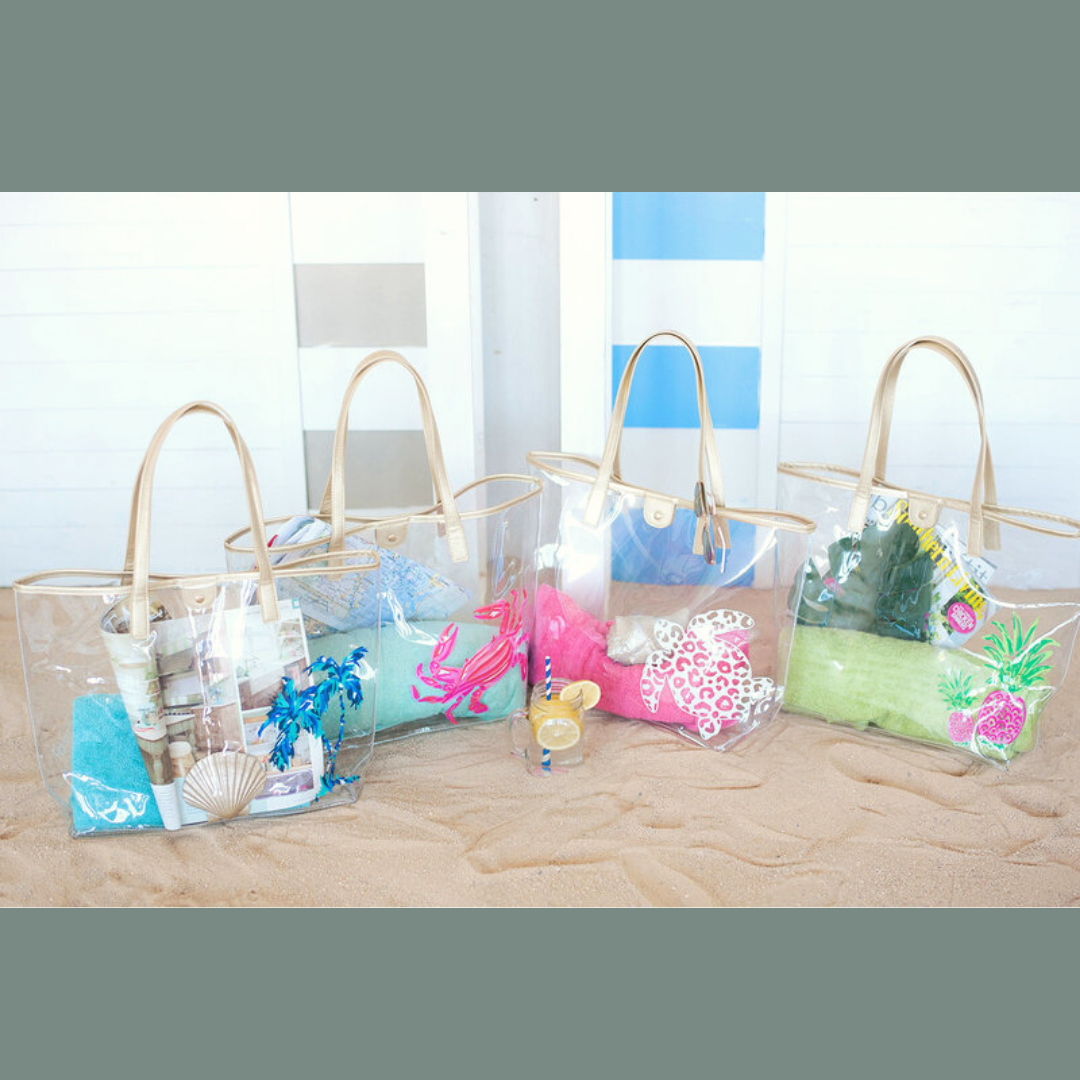 These new bags are so cute and flying off the shelves at the store! The retreat tote bag features a clear plastic body with gold metallic vegan leather trim. Toss in your matching beach towel and a good book for the perfect beach or boat day! Available featuring turtle, crab, pineapple, or palm tree artwork. Vinyl personalization is included. 
Ultimate Beach Tote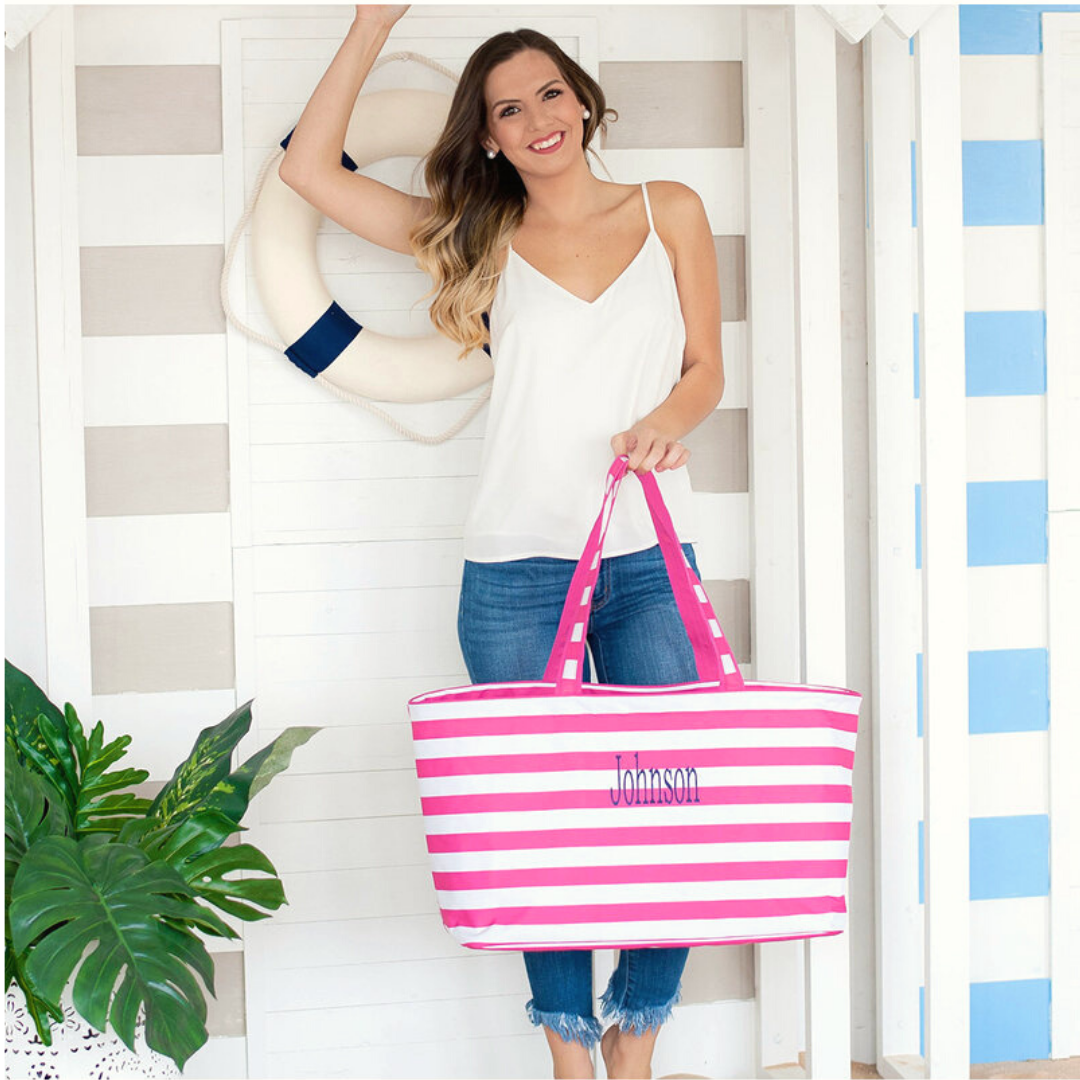 For the day on the beach or at the pool with the family, our Striped Ultimate Tote is the perfect oversized carry-all tote. It includes 1 zipper pocket, 6 open interior pockets, reinforced bottom, and long, easy-to-carry handles. Available in Electric Blue Stripe, Navy Stripe, and Pink Stripe. Embroidery personalization included.
Hello Poolside Turkish Towel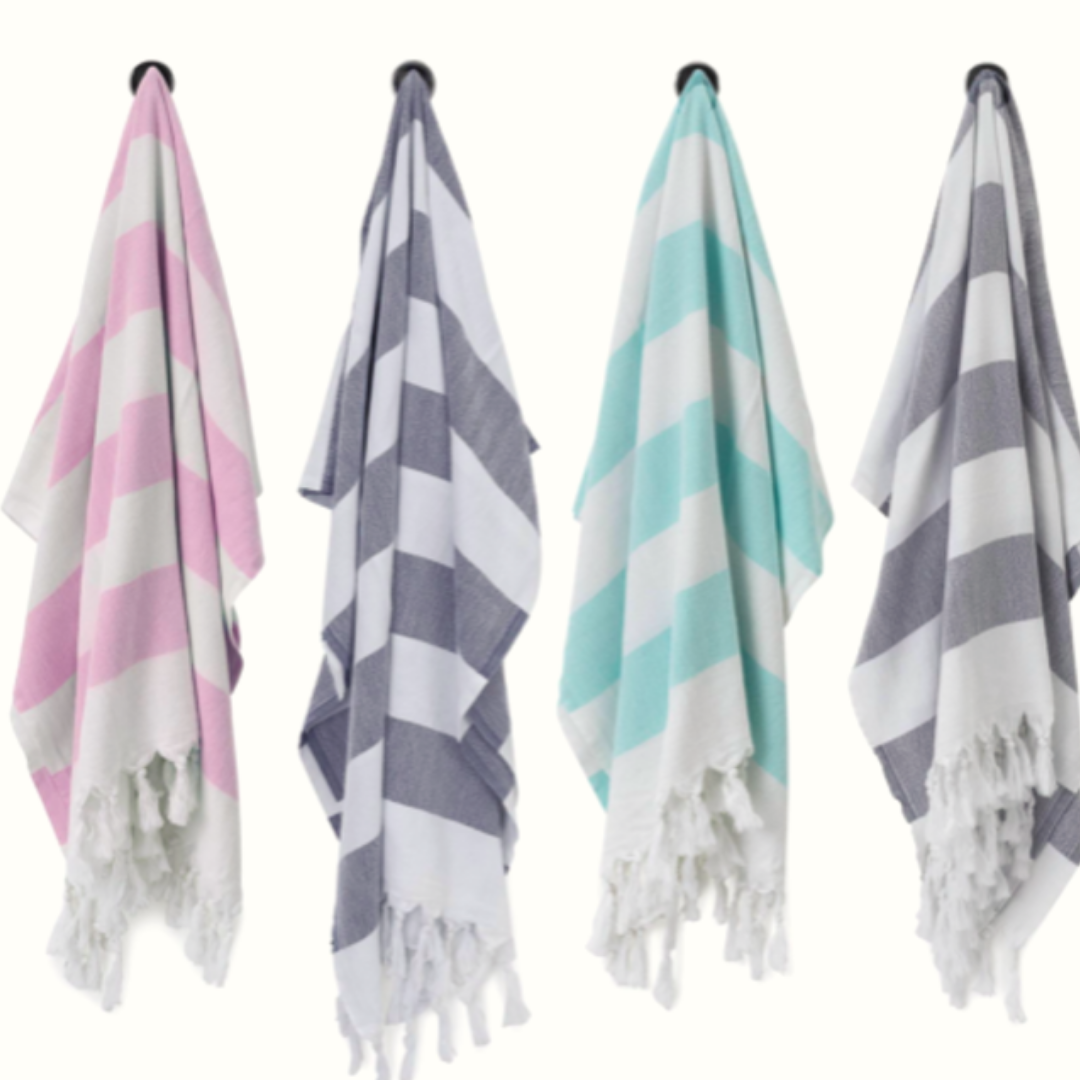 These new towels are so soft! They have premium woven, heavy-weight Turkish cotton, our turkish towel offers a subtle luxury to your everyday. A better alternative to the traditional bath towel. Also a great poolside and at the beach. Available in Shibori Waves, Pineapple, Mint Cabana Stripes, Pink Cabana Stripes, Navy Cabana Stripes, and Charcoal Cabana Stripes. Embroidery personalization included.
Skinny Can Cooler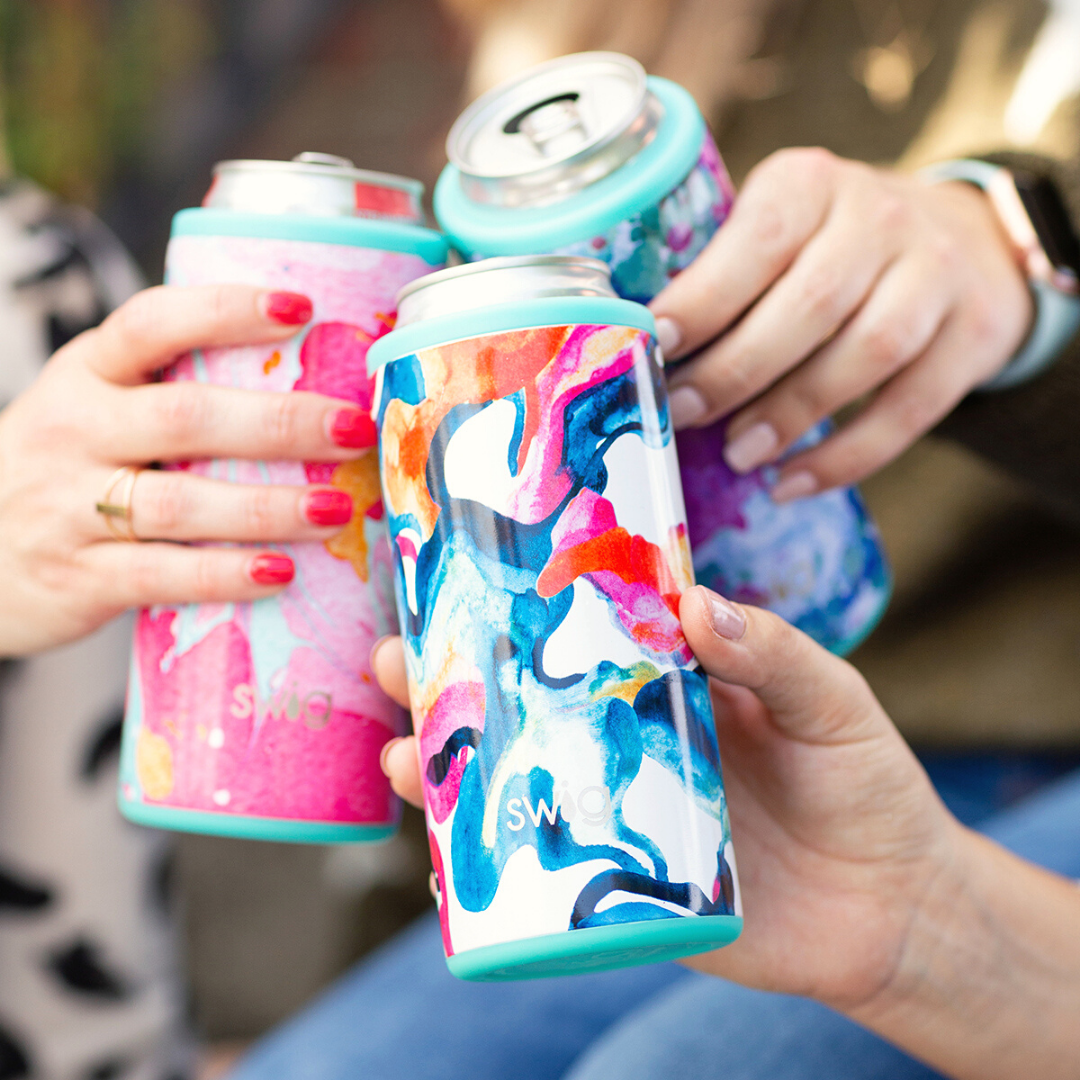 Last but not least, you can't head out for a hot day of summer fun without something to keep your skinny cans cold! New to the store, these Swig 12oz Skinny Can Coolers are a must! Thanks to our triple insulation technology, this HOTTEST NEW TREND keeps your slim can beverages cold for up to 12 hours (but it won't take you that long to finish one!). Simply push the can down into the cooler, pop the top and enjoy. Then twist off the top ring to remove your empty can and repeat when you're ready for your next drink.. Available in solids or prints. Vinyl personalization included. 
I can't thank you all enough for your continued support. I hope you are all enjoying your summer, even though I am sure it doesn't look like you may have planned at the beginning of 2020. If you are in need of some gift ideas for birthdays or a new baby, please stop in or send me a message, I would be happy to help. If you are still uncomfortable coming into the store, we are still offering ordering via phone and offering contactless pick-up. Stay safe, stay cool, and have a happy summer!